Welcome To SchoolPerfect

School Management System
SchoolPerfect is an All-In-One solution for managing your school. With SchoolPerfect's School Management Software you can do grades, test scores, report cards, transcripts, attendance and accounting.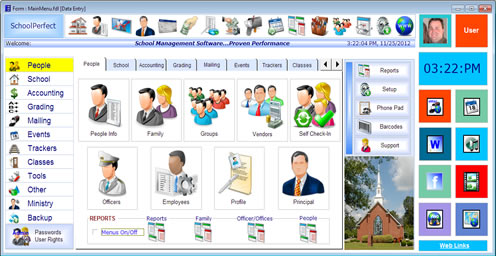 New*** Download Free Demo SchoolPerfect 2016
The School Accounting Software tracks students and daycare accounts receivables, and before/after care. The student accounts receivable software is unlike any other on the market. It allows you to setup fourteen different accounts for each student and track balance due in each account. When you print the billing invoice for the student, all accounts are listed on the bill showing the balance due in each area. For example: If a student pays tuition, you can see on the billing statement how much has been paid on tuition and how much is owed. Also, if a student pays for arts & supplies, you can see how much has been paid and how much is owned on the billing statement. All accounts and balances owed in each account are listed on the Billing statement. At the bottom, it says, "Pay This Amount". This amount is the balance due in all the accounts for this month.
SchoolPerfect is the outgrowth of our popular "ChurchPro" Church Management Software". Much of the functionally in SchoolPerfect has been proven in the ChurchPro workplace. These two programs work together to provide you with the School and Church Management software that you need saving you time and money.
SchoolPerfect is great even if you are on an accelerated curriculum. Schools that use other programs for accelerated curriculum will use the student and day accounts receivable in SchoolPerfect because of the unique way it tracks balances in different accounts.
SchoolPerfect is an All-In-One solution. You do NOT have to buy one program for the school and another for the financials. Everything is integrated including events, accounting, student profiles, and family information.
SchoolPerfect works in all windows operating systems and even works in the new Windows 8 released in October 2012.
With SchoolPerfect's School Management System you get:
Full color Pictorial Directory of any group you define in both large and small format.
Automatic Billing Statements.
Unlimited Record entries for one low price.
Over 800 ready to run reports and over 200 modules.
Password Protection at the table level for your sensitive information.
User Login with a password or user stand alone.
Free Installs on your home and laptop computer.
90 days of Unlimited Technical support.
30 day Satisfaction money-back guarantee.
Proven Performance with over 9 years marketing to schools.
SchoolPerfect

is Network Ready. You can connect up to 99 concurrent users.